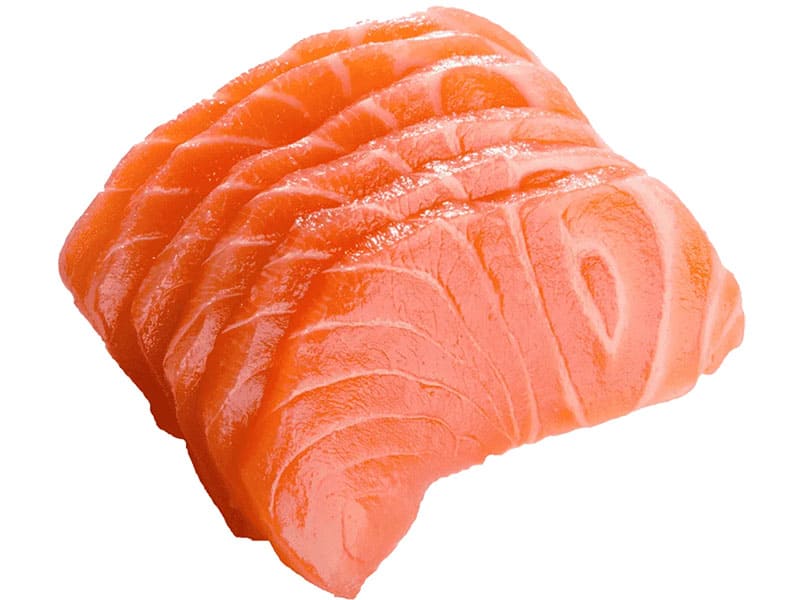 Salmon (aquaculture) salted (sushi), fillet slices without skin
New production is coming soon
Secure online payment
COMING SOON: follow the news
Salmon is a premium fish from the salmon family, it is often called the queen of salmon. And not in vain. Both in terms of taste and quality characteristics, it is worthy of such a title. Salmon meat is delicious, tender, sweet and easily digested. Steaks and tender fillets are made from fish. Salmon is more caloric in comparison with other species of this family. Despite this, eating salmon will not lead to the appearance of excess weight. It has many useful properties for the human body, it is only necessary to observe the measure.
Interesting: 100 grams of salmon contain half the daily value of protein and are more nutritious than beef or pork.
How is salmon useful?
Salmon is a godsend for the prevention and treatment of many diseases of the nervous system, gastrointestinal tract, cardiovascular system, reproductive system, anemia. Thanks to the amino acids and Omega-3 and Omega-6 fatty acids in the composition, the use of this fish contributes to faster and better wound healing, reduction of external and internal inflammation, and cholesterol reduction. Salmon is useful for both adults and children, it is a source of vitamins, a large number of macro- and microelements and easily digestible protein necessary for the construction of the body.
What to cook from fish?
The popularity of salmon is explained by the excellent taste and ease of cooking. It is almost impossible to spoil it. Salmon meat is quite fatty, it remains juicy and soft when cooking. Salmon is used as a filling in pies, as a component of snacks or salads, for making sandwiches and canapes. It is ideal in salted and smoked form, baked in foil or grilled. Salted salmon is the most useful, the loss of important substances during cooking is minimal. You can cook fish, fry it or use it as an ingredient in soup. Salmon meat is one of the key ingredients in sushi and rolls. It goes well with vegetables, eggs, beans, olives, cheese, sweet and spicy sauces.
| | |
| --- | --- |
| Weight | 0,2 kg |
| Product | |
| Cutting | |
| Type | |
| Origin | |
| Packing | |
| Filling | |
| Energy value (per 100 g) | |
| Nutritional value (per 100 g) | |
| Storage conditions | |