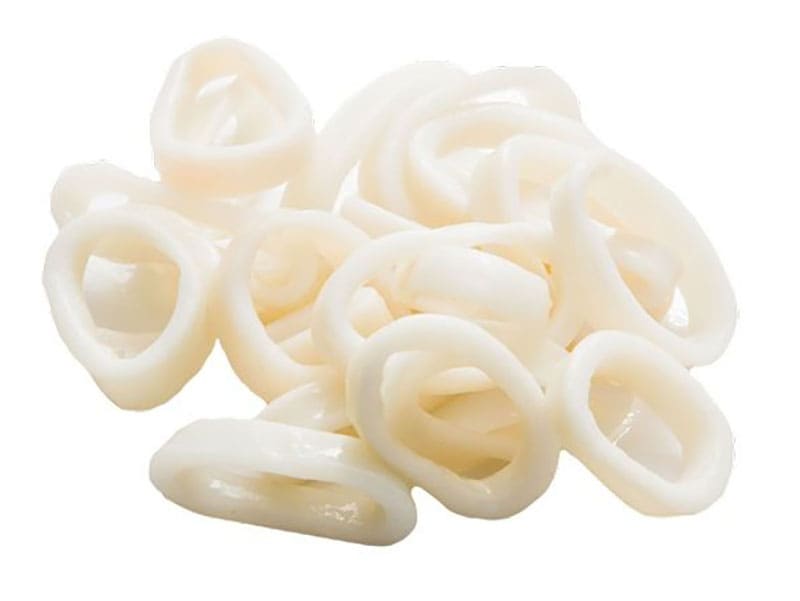 Squid rings, freshly frozen, 500g
Secure online payment
COMING SOON: follow the news
The squid is a representative of ten-armed cephalopods. It is found exclusively in the seas, does not occur in lightly salted and fresh water bodies. Usually squids have an average size from 0.25 to 0.5 meters, are the largest invertebrates.
Interestingly, scientists know about three hundred species of squid. In fact, almost twice as many, just not all species have been studied yet. Squid are the least studied of all the inhabitants of the depths of the sea.
What is useful for squid?
Squid is a source of animal protein that is slowly digested in the human body without a set of extra pounds. It does not contain cholesterol, therefore it is allowed in dietary nutrition. Squid meat supplies bone tissue and teeth with phosphorus, calcium, lowers blood pressure, prevents the development of hypertension, removes heavy metal salts.
What to cook from seafood?
In cooking, carcasses are mainly used. Boiled squid is the main component of many salads. Boiled squid can be stuffed with various fillings and used as a cold snack, or it can be baked in the oven and served hot. From popular recipes – risotto, paella or pasta. Salted and pickled squid is also delicious.
| | |
| --- | --- |
| Weight | 0,5 kg |
| Product | |
| Cutting | |
| Type | |
| Origin | |
| Packing | |
| Filling | |
| Energy value (per 100 g) | |
| Nutritional value (per 100 g) | |
| Storage conditions | |