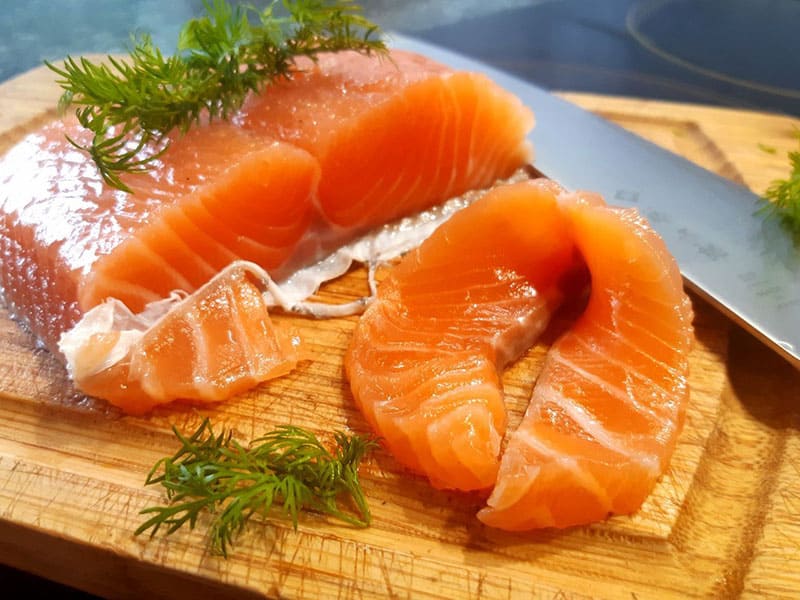 Wild pink salmon, freshly frozen, fillet pieces on the skin
Secure online payment
COMING SOON: follow the news
Pink salmon is the brightest and smallest representative of the salmon family. The weight of the individual barely reaches 2 kg with a length of 40 cm. The fish got its name due to the hump that appears on the back of the male during spawning. During spawning, fishing is prohibited, at this time its meat loses its famous taste qualities. This fish is always on the menu of expensive restaurants. The flesh is almost boneless. Pink salmon clearly follows its internal schedule. In even—numbered years it goes to the left for spawning, and in odd-numbered years it goes to the right. Ichthyologists have established a pattern: the rivers of Primorye prefer flocks for odd years, and they go to Kamchatka exclusively for even years.
What is the use of pink salmon?
It is considered one of the most dietary types of fish, the composition contains only healthy fats and practically no carbohydrates. Proteins account for as much as 60%, so pink salmon dishes are low in calories and give a feeling of satiety for a long time. For supporters of healthy eating and diets, pink salmon is a real find. Fish contains cholesterol in a form that is useful for humans. Pink salmon is useful to include in the diet for obesity, hypertension, diabetes, asthma, arthritis. Strengthens bones and vascular walls, stimulates immunity, increases mental activity, improves skin and hair condition.
What to cook from fish?
This is a very tasty and healthy fish that can decorate any festive table. Many delicious and healthy dishes are prepared from it. Grilled salmon turns out to be no less tasty and more useful than fried in a frying pan. The dish will acquire an unforgettable tenderness if you pour it with lemon juice or white wine. When baking, pink salmon is pre-soaked in marinade or vegetable oil. In a foil or baking sleeve, the fish will turn out incredibly juicy. When cooking, it is better to limit yourself to black pepper, wine, orange or lemon juice, so as not to interrupt the aroma of red fish and not to worsen the taste.
| | |
| --- | --- |
| Weight | 1 kg |
| Product | |
| Cutting | |
| Type | |
| Origin | |
| Packing | |
| Filling | |
| Energy value (per 100 g) | |
| Nutritional value (per 100 g) | |
| Storage conditions | |